Riding a wave of global fanfare, excitement and hype, Coinbase went public on April 14, 2021. It has been a bumpy 13 months.
The company went public through a "direct" listing, which is slightly unusual and a bit riskier than a more traditional IPO. With a direct listing, there are no investment banks or pools of wealthy investors promising to create a market for the stock once it goes public. Instead the company's shares are essentially just hoisted onto an exchange, in this case the NASDAQ, for investors to buy immediately at whatever price the market makes. Sometimes that works. Other times, not so much.
Unfortunately, Coinbase is proving to be more in the "not so much" category.
Along the way, the net worth of CEO Brian Armstrong is getting obliterated.
Prior to last year's IPO, analysts predicted Coinbase's stock price would land at around $250 when the direct listing was complete. That would have given the company a market cap of $65 billion.
Soon after debuting, the price hit $300. Then $350. Then $380. Then $400. Then, very briefly, $430.
At $430, the company's market cap was $112 billion.
Brian Armstrong owns 20% of Coinbase's outstanding shares. At $430 per share, Armstrong's paper net worth briefly topped…
$22.4 billion
At that peak level, Armstrong was one of the 70 richest people in the world. He ranked in the same ballpark as former Google CEO Eric Schmidt, hedge fund king Carl Icahn and Laurene Powell Jobs (Steve Jobs' widow).
Fortunes Fade
On May 9, 2020, the price of Bitcoin was sitting at just under $60,000. Ten days later, Bitcoin briefly sank all the way down to $30,000.
Ethereum's price dropped 20% in 24 hours. Binance dropped 40%. Dogecoin dropped 20%.
All told, the entire cryptocurrency sector shed $1 trillion in value in a day.
With that drop Coinbase's share price briefly touched $208 before closing at $224.
At $224 a share, Brian Armstrong's paper net worth was…
$9 billion
Between that low point in late May of last year and early October, Coinbase's share price remained right around $240 a share. Then there was a bright spot! By mid-November shares zoomed all the way back up to the IPO price of $342 as the price of Bitcoin ran right back up to an all-time high of $68,000.
Unfortunately, here's what happened between mid-November and this morning: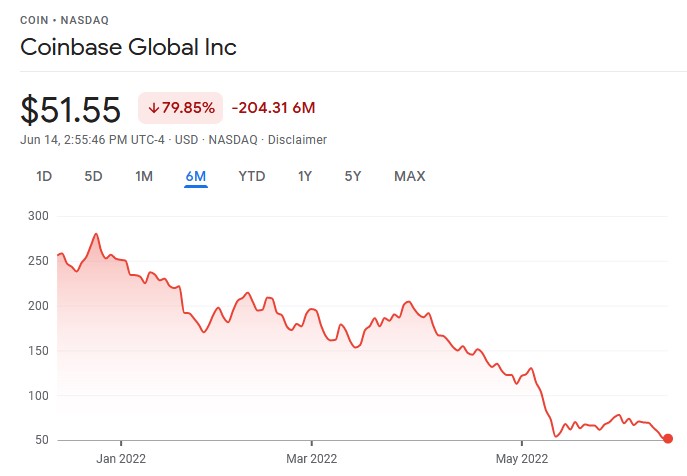 As you can see, in the last six months Coinbase's share price has fallen a little over 80%.
Coinbase's market cap has fallen from around $90 billion in November to roughly $11 billion today.
At today's price per share of $51, Brian Armstrong's net worth is currently…
$2 billion
Now, don't get me wrong, if that's where it stayed forever, $2 billion would be an extremely respectable net worth. Plenty to continue making payments on that $133 million Bel Air mansion Brian bought back in January of this year. But… what if this isn't the end of the pain?
Today Coinbase announced it was laying off 18% of its workforce. In the company's quarterly earning report released in May, Coinbase reported that revenue was down 27% from a year ago. Monthly transaction users (people using the service) fell from 11.4 million in the fourth quarter of 2021 to 9.2 million in Q1 2022. Trading volume in the same periods dropped from $550 billion to $310 billion.
If Coinbase's share price drops another 50%, which isn't exactly an unimaginable scenario, Brian Armstrong's net worth would be $1.2 billion. ON PAPER. If he cashed out entirely and was left with around $500 million in actual usable financial money, that would be awesome for most people, but maybe not awesome enough to afford to keep a $133 million mansion? And this is all assuming Coinbase isn't on a march to zero, which is also not an entirely unimaginable scenario.